As I sat down to write out my workout schedule this week, there didn't seem to be many workouts that hit me and that made me immediately want to do. I decided to create all new workouts for the week, and use different formats to make me enjoy them.
I actually did today's workout yesterday, and felt amazing after I finished. It really worked my arms, and they were shaking as I was on the elliptical after.
When you do this (because I know you really want to!), don't start off with your max weight in the first set. My arms were definitely feeling it during set 1, but I know I could've gone up in weight. However, by set 3 when my arms were on fire, I knew that started lighter was the best idea! Make sure to warm up and cool down, as always!
**************************************
Lucky for you, that's not all I have today! Sarah also nominated me for the Sunshine Award, so it's your turn to learn even more random information about me! I know this has been passed around to a lot of fabulous bloggers, but I never get tired of reading them. Other surveys I do because they are all the same questions. I love that these all have different questions, making me learn new things about the bloggers!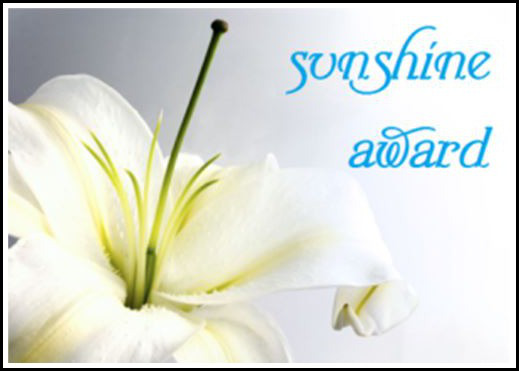 The Rules:
1.  Include award logo in a post or on your blog.
2.  Link to the person who nominated you.
3.  Answer 10 questions about yourself (I'm going to do 5 from each so this isn't ridiculously long)
4.  Nominate 10 bloggers to receive the award.
1. What was/is your favorite subject in school and why?
Math. Math has always come easy to me, and I loved have to figure things out. I didn't like where I had to read something and either I got it or I didn't. Math allowed me time to keep working on it, and feel like a champ when I figured it out.
2. Who is your role model? I used my mom for this one before, but it's really everyone older than me. I truly look up to my family and friends and see what they have worked for to get them where they are now, and how they live their life. I truly love my family, and everyone apart of it!
3. What is your favorite animal? Um, like pet? My favorite pet is a cat; specifically Benson. As if you didn't know that right now
However, if we are talking like Zoo animals, I'd say Elephant. I have no idea why, but man I love those elephants! Especially baby ones!
4. What toppings do you put on your ice cream/froyo? Cookie dough. Mmm Just had some yesterday actually. It's been a while without FroYo in my life, so I stopped on my way home. Best decision ever. I also topped it with Oreo pieces, but my all time necessity is cookie dough.
5. What's your current favorite song? Roar by Katy Perry.
6. Describe your perfect day. Oh my, there could be so much to this! Haha Let me try.. Fall time weather, so I can wake up early, but lay around in bed for a bit. Then, wake up and have Aaron go for a run with me, and do some lifting. I'd come home and fill up on a breakfast at home. My perfect day would probably include playing with Benson and making time for some shopping at the mall right by us. I'd fill my afternoon with some relaxing time, and go out to dinner with my family. I'd finish off the night with a fire outside our house, and all of our family members and friends. And, now I want this day to be a reality.. Aaron are you reading…?
7. What's your favorite thing about blogging (I love hearing this question!)? Meeting new bloggers and having new friends. I haven't really mentioned it, but I don't have too many friends who are on the fitness lovetrain like I am. I love hearing from others about their workouts, and fulfilling their dreams, or working hard to attain them. I feel like I know more about my blends than I know of my real life friends. I just love how no one is competing (or at least I'm not!), but everyone is themselves! No one is trying to be someone different like you see a lot in real life (not saying blends aren't real life.. haha).
8. How many hours of sleep do you usually get a night? I would take 10 if that was allowed. I used to sleep a bunch when I was home. Since living with Aaron, my bedtime has gotten later (but I don't like that!). I feel great on 7.5 hours of sleep.
9. Describe your most embarrassing moment growing up. I still get made fun of to this day from my best friend Kelly.. but I used to sit in the sandbox and eat the sand. I know.. it's disgusting haha But it's true.
10. What's your favorite sport to watch? Pittsburgh Steelers (football) or Penguins (hockey). I'd say Penguins in person but Steelers on TV. There are just too many hockey games to keep up with, but I love that our friends usually get together for Steeler games!
I loved these questions, Sarah! They were so fun! Thanks again for nominating me