***I want to thank you all for the kind words you said on yesterday's post. I definitely don't hold back my feelings on everything, but some things I don't usually talk about. I loved hearing all of your feedback and knowing I am not the only one who feels certain ways! ***
Today's post is a little all over the place! I typically do WIAW posts solely focusing on food. Well, I failed yesterday at taking pictures of all my meals, so you get more today!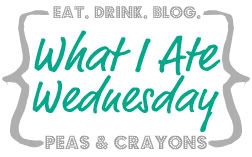 ***
Let's talk fitness, first, because I just really like it, that's why!
I started the morning participating in Abby's Virtual 5k race! I was up and at it at 5:30, and pushed through it! I actually felt much, much better running yesterday than Sunday and Monday. I enjoyed my run!
I enjoyed my run so much, in fact, that I had to run again after school! Last week at this time we had temperatures barely reaching the 50s. Yesterday? It reached 80! Eighty-flippin-degrees! I came home, changed, took Niko outside to sit in the front yard, and took off. Since I did a steady run in the morning, I decided to switch it up and push myself with some speed, mainly in HIIT form. It wasn't anything fancy: 30 seconds push it (Against the wind mind I add!) and 1 minute recovery. I did it for 25 minutes!
Sweaty, sweaty mess! But it felt great! I loved switching things up and running outside for a change!
***
Next up, some yummy food that I remembered to snap pictures of!
My breakfast was another overnight oats recipe with some cookie butter. It was delicious,  but not only did I forget the picture, it is gross looking!
In it went: 1/3 cup oats, 1 teaspoon vanilla, 1 teaspoon cinnamon, 1/2 tablespoon chia seeds, 1 tablespoon Flax seed, 1/3 cup milk, and 1 tablespoon cookie butter added after microwaving it in the morning! Delicious!
That breakfast kept my feeling full until lunch time, when I enjoyed a huge spread! I literally couldn't eat it all because I ran out of time!
I found Beef Tequitos at Trader Joes last week, and they are delicious! Oh gosh, I seriously love them paired with plain Greek yogurt, and salsa! Mmm! I'm still trying really hard to get those veggies in, so I had celery, carrots, and green peppers, with some hummus. I rounded out my meal with some strawberries topped with stevia. There is also a small baggie with my veggie chips in it. The carrots and chips weren't able to be eaten until about 1:30 because I had run out of time
After my 2nd run yesterday, I decided to try the Brownie Quest bar to hold me over until dinner. Um, not a fan. I didn't really think it had a taste? Maybe it's just me. I tried warming it up in the microwave, too. Maybe I'm just a little biased to the Cookie Dough
Dinner was Subway! That's one perk of having no kitchen. I added some sweet potato fries to mine.
I'm trying really hard to cut back on sugar in my life. In fact, I went around Monday night and picked up any candy in my house, put it in a bag, and into the freezer it went! I need to get over my sugar obsession, especially later at night. I am definitely not as good as all those who did the Sugar Detox (seriously, you all were amazing for that!), but I am going to work my way into eliminating it, or allowing myself a small treat every couple days!
I was craving something after dinner before bed, so I made some apples with cinnamon, and a cup of vanilla chai tea (which, by the way, I am out of and have been to numerous stores and can't find it!)
***
Now, onto A Funk!
On Monday, I was doing leg extensions as part of Best Body Bootcamp, and I felt my knee aching a bit (mind you, I didn't even think twice until yesterday!). When I went walking on Monday, I felt it again, but still didn't think twice. Yesterday, while running the 5k, I felt a little more of a twinge, but it went away, so I moved on. I felt it again when I went running after school, even telling myself I would give it a minute and if I still felt it, I would be done. BUT, it didn't hurt after the first few steps, because I don't even remember it. Flash forward an hour, and I could barely walk. This is what my night turned into:
Um, about all the sheets. Ignore those; we're trying to avoid dust everywhere!
I wish I knew what I did to my knee. It hurts to physically touch it, and walking up and down the stairs is the worst. I guess what is strange to me is that I don't remember doing anything to it? We also did Surrender Squats on Monday in bootcamp, which might have contributed to the pain.I woke up this morning and it feels much,much better,  but I am still taking a break to make sure. I bet it starts hurting as I am on it all day, but it seems as if the ice did wonders yesterday!
And… just because if you made it this far you are my new best friend, here's a beautiful picture from the sunrise yesterday.
Have a great Wednesday! See you later with some more organization tips!
**By the way, my post on Numbers that was featured on Danica's blog is on Fitkit's website here. **
Cereal or oatmeal? When you are injured, can you pinpoint where it happened? Did you get a run in yesterday? Anyone else run the virtual 5k yesterday? or the Happy 5k?