Thursdays can be a pretty great day. We're one step closer to the weekend, I have off, and it's a day I can just blab to all of you. I feel like it hasn't happened in a while, so here's what's going through my mind lately.
1. I had great posts planned for this week. Actually, I have a few weeks of posts planned. But, none of them got written. My nights have been consumed with other things that have come up randomly, leaving little time to blog. Well, blog well written posts, that is…
2. I think Annabelle is teething but my gosh I hate seeing her in pain. She started with crazy diarrhea (tmi but oh well, ha!) Sunday and it has resulted in a horrible diaper rash. I don't even know how to help her. One day she was crying and screaming so bad that after I got her down for a nap I just walked out and wanted to cry, too. I hate not knowing how to help her!
3. I met my friend Nikki in the park yesterday morning for a run with A and it was so nice to catch up but ridiculously hard! The humidity was brutal and I will blame the stroller, too, but really I just haven't been into that running scene too much lately.
4. It's been very hot the past few weeks, which is both fun and exhausting. If it cooled off in the evening/morning I would like it more, I think. Grass is always greener on that other side! Don't worry- I'm staying cool in the baby pool that barely fits my legs
Snapchat: Heatherann517 follow me! Let me know your snapchat name!
5. Laziest mom yesterday- I put the pool in the shade so I didn't have to apply sunscreen and let her go in her diaper so I didn't have to wrangle her to put on a bathing suit. Winning at this mom life
6. Confession: Sometimes I Just go through my photos to see what I've done recently to share with all of you. Turns out I haven't done anything too exciting this week.
7. I ordered 130 photos the other night. What the heck am I doing with them? I keep ordering photos feeling like I need them, but they just end up in stacks. Anyone have ideas?
8. A few months ago I said I was a few episodes behind in The Blacklist. Well, I'm still a few episodes behind. I just remembered I should probably finish them.
9. I can't stop with baby clothes shopping. Honestly, it's a problem. I haven't bought myself anything in forever, but baby clothes I can't help myself. Between sales, clearance, and the fact that Annabelle won't stop growing, my wallet is getting emptier by the minute…
10. I did find these booties that I want from Target. I need to make it happen. Paired with jeans and a flowy shirt.. perfect fall outfit.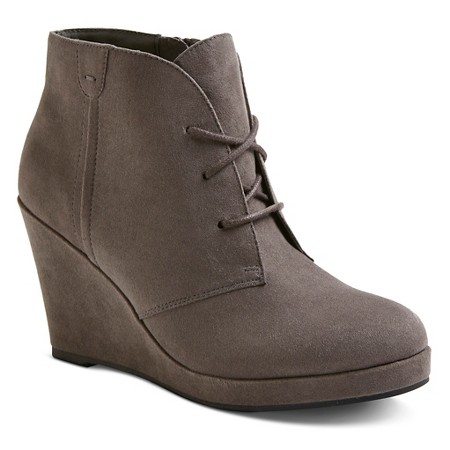 Similar but not the exact pair I want.
12. Back to school shopping is still my favorite even though I am not teaching anymore. There's just something about it! Thankfully, our church gives backpacks to a school with children in need, so we filled up two backpacks to donate. I loved shopping for that stuff. I also bought myself new pens which excited me a little too much.
12. We went on the boat on Tuesday night and though I didn't let the little fish of mine in the water because of her diaper rash, it was a nice evening on the boat.
13. A Wednesday night is the perfect time to hit up a bar with a baby, right? Ha We joined my cousins for a dinner at FatHeads last night. It isn't the closest, and we had a fussy baby on the way home, but we got to hang out with family and it was worth it.
On that note, I think my ramblings are over! I'm hoping to get back here tomorrow with a real post that I have planned but can't make that promise.
What's on your mind today?
Last restaurant you ate out at?