My week has been going really fast, for which I am really excited! Subbing at the high school this week has made me realize 1) I could never teach there, 2) PDA is very prevalent, and 3) fashion trends have changed. I can honestly say I am glad I am out of high school, and will never return!
Being done so early in the day has also been marvelous. I have been managing to wake up at 5 to workout, and start my day at school at 7. This means I am free after 2:30, and today, it will be 1:30! I have gone into every day with a positive attitude, and have come out with one, as well, which is all I can ask for!
Now, let's get to it! I'm linking up with Jessie over at Jessie Loves to Run for some Thankful Thursday action. Make sure you check her blog out, and link up your own!
Thursday
Figuring out how to use Hoot Suite for tweeting! Time saver.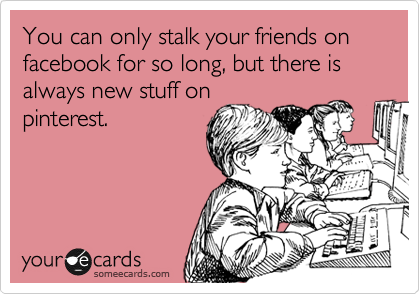 Friday
Getting to see my friends! I have so much fun getting together with them, but our schedules are so busy that it's hard to get together.
Saturday
Playing with Roman and seeing the family at Aaron's. It brightened my day that Roman seemed to know who I was, despite not having seen me in multiple weeks!
Just because she's too cute not to throw a picture up
Sunday
Meeting Jen's baby boy! And getting to hang out with her other one, Landen!
Monday
I was really upset, at first, that I didn't have a job. However, it meant I was able to spend a day with my mom and brother since he was home. It was also much needed after my weekend!
Tuesday
Waking up and getting in an excellent workout! Four mile run and about a 10 minute walk at 5:15 in the morning!
Also, Aaron and I had quite a few houses to look at, like 5. We headed out and had hopes we would find a house, but really weren't sure. I was going into it with positive thoughts, and had really opened my eyes to imagining the possibilities houses can have. I also had quite a few people tweet me good luck messages, which helped with positivity!
The first house we went to we loved, but it was wayyy too tiny. The kitchen couldn't have a table, the living room had no room for a table, and there were only 2 bedrooms that were tiny. No thanks.
We went to another, but people were there (this is 5:20, remember that), so we moved on and decided to come back. The next house we went to looked deceiving. It has shrubbery all over, which would have to go! However, Aaron and I walked around and couldn't find something we didn't like. There was an addition on the back, which had the master bedroom, with a bathroom and walk in closet! There were three bedrooms that were all huge, and a large living room. The basement isn't completed, but I have hopes we could finish it. The backyard had a flat side yard, a hill with more shrubs, but then it leveled off for a decent size upper yard! Not to mention it had a closed in back porch, which I thought was nice! So, Aaron and I did manage to find one house we liked and are going to take our parents to check out and see if we could make it work!
We had gone to 2 more houses (one I really loved, it was everything I wanted, but it was way too tiny. I'm hoping to bring some babies into the world in a couple years, and we would have zero room for any!). We went back to the second house that had people in it. They were still there! It was 6:35! At this point, I was like wow! this must have potential to look at it for over an hour. The people were leaving as we went in. We had walked around the house in about 5 minutes, and went outside to leave, and the people were still there. I have no idea why they were in there for so long; it was definitely not what we wanted. It needed major work, didn't include appliances, and it had an addition on it that was just set up weird. You had to go through a bedroom to get to it.
This was the other one I loved, but didn't have much room for the price.
Wednesday
Having my best friend and maid of honor, Emily call me! I haven't talked to her in a while because she was packing up and moved to Florida! We talked for quite a while, but it was great. We caught each other up on our lives, she told me about the temperatures down there and I told her how it's still snowing up here, all was well.
I also headed out to the mall today to decide on new running shoes and cross training shoes. I started to realize (or acknowledge) that I was buying running shoes, and when I could no longer run in them, they became my cross training shoes. Lately, I have noticed some pain in my feet while on the elliptical or doing circuits, and I believe it is because of the shoes. Luckily, I discovered a code for Reebok's End of Season Sale   (click on the link to see the choices) to get 40% shoes! (Coupon code SPRING40) I headed to Dicks to try some on and see what size I was before ordering them.
After much consideration, I went with the Realflex Transition shoes. The color was only partly the reason
  I checked out some blogs where people had written reviews on these, and they seemed like they would work for exactly what I wanted.
I also need running shoes. Luckily, Aaron's brother works at Dick's, so he can get me 25% off a pair; I just needed to know what pair I wanted him to buy so I could repay him. I have Brooks Pure Flow now, and knew I wanted to stick to the Brook's minimalist shoe. They are so lightweight, and cushion my feet!
I ultimately decided that I want to try these out. There are some new features on these that mine don't have, such as an attached tongue, and zig zag laces to be more in tune with the top of my foot. Now, I just need to have him get them for me sometime soon
*****
That ended up being longer than I was expecting, so I'll end here! Hope you all have a wonderful Thursday.
Questions:
What kind of running shoe do you have?

Are you working tomorrow or do you have off as a holiday?

Does the color of something entice you to buy it even more?

What are YOU thankful for today?