Good morning! This past month, I decided to take part in Julie's Book Club. I usually vote for the books every month, but have never taken the time to actually get the book, and read it. Now, I have a blog to share my thoughts on, so it works out!
This month, the book selection was The Fault In Our Stars by John Green.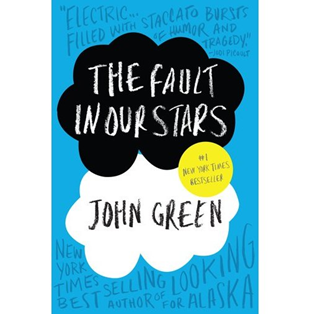 Brief Overview:
Hazel Grace is living a life with terminal cancer. Despite the progress of shrinking her tumor, she knows her life will come to an end, and she will leave her family behind. What she didn't know was that she would meet Augustus Waters at a support group one day, and he would change everything.
My review (with spoilers):
Immediately from the get-go, I was intrigued. This was a book that captured my attention, and I never wanted to put it down.
I immediately became invested in this book as I started reading about three teenagers, who have all dealt with or are dealing with cancer. I actually started it and just felt bad for them, because they were so young. Isaac had to lose his eyes and go blind, Hazel has to use oxygen everyday, and Gus lost his leg. It became real to me that these things happen everyday, and we still don't have a cure for them.
There is nothing like a love story, in my opinion, so I was immediately rooting for Gus and Hazel. They were completely different; Gus loved metaphors, Hazel loved reading and poetry, but they bonded over the novel An Imperial Affliction. This is where I knew the story would get even better.
Hazel had a near life- threatening stay in the hospital, after her lungs filled with fluid, but that wasn't stopping her from using Gus's wish (just like Make a Wish) to go to Amsterdam and find out the ending of the book they both loved that abruptly ended. I couldn't help but grow more and more attached to these lovebirds throughout the story.
Gus was always there for Hazel; he carried her oxygen tank, he sat on the grass when she needed a break, he held her tight, and he even hung out in the waiting room while she was in the hospital. That, my friends, is love. Hazel tried everything not to love him, because she feared dying on him, after his last love, Monica, died.
While in Amsterdam, we found out some bad news. Turns out, Gus's cancer had returned, and was even worse. His last scan showed tumors all over, but he had neglected some treatments to go on this trip with Hazel, knowing he would die. Could you break my heart anymore? I just couldn't get over how mature he was, and what he was doing for Hazel.
Needless to say, I was a wreck through the rest of the story. I was so upset knowing what would happen. We watched Gus' life spiral downhill, but Hazel was there throughout it all. I have not, thankfully, been around anyone with cancer who had been dying. My uncle died from Melanoma, but he lived in Connecticut, so I didn't see him towards the end. My heart just broke as I read everything he was going through, the pain he felt, and the trouble he had to endure in those last few days.
One day, Gus called up Isaac and Hazel and told them to meet him at the church and to prepare a eulogy. Nooo… Gus wanted to be there for his funeral, so Isaac and Hazel delivered eulogy's for him to hear. I was near tears by this point. It was so moving to read about this, and how he faced his last days.
By the time Gus passed away, I was crying. This was great, too, as I was reading this in study hall while being a sub at the high school. Hazel and Gus had been so in love, even though both knew they wouldn't live forever.
**** Spoilers over****
I couldn't imagine having cancer, or having my child live with cancer. This book showed their lives, without that being the main plot, which made it even better. I loved the details John Green included, because they made me feel like I was there, and knew the characters. I would, without a doubt, recommend this book to everyone. There is much more to the story than what I described; I was just highlighting where I felt the most throughout it.
If you love a romance, but want more to the story than that, this is for you. It is also coming out in a movie sometime in the near future (maybe next year?) so I would definitely say read it before you see it!
Question:

Do you know anyone that has dealt with cancer? Are they in remission?

How would you feel knowing your life was coming to an end sometime soon?

What book are you reading now? Would you recommend it?