When you book a cruise, the only thing you hear is how delicious the food is, and how much food is available for you. Aaron and I chose to eat dinner at the 8:30pm dining time so we never had to leave things early for the 6:00 pm dinner. We loved that we chose that time; we had so much free time before it, and were able to take in the beautiful weather by the pool, get a few runs in, or just walk around the ship. Sometimes we saw shows before dinner, which was so fun.
I did not take pictures of everything we ate, by any means. In fact, I probably took pictures of 1/8 of what we devoured. I just didn't think it was a necessity to do so, and I didn't always have my camera!
Let's discuss our dining table. Before the cruise, we were both told how many friends we would make and how fun the dinner table would be. I won't lie; I was pretty excited for this! Unfortunately, it wasn't true. We sat at a table for two, and there were two more tables beside us with two people each. I believe they were both on their honeymoon's as well. The real bummer? The ones immediately to my right spoke Spanish, so how could we communicate? They were also the most miserable people. Seriously. They hardly spoke to each other at dinner, she was always on her phone, even playing games!, they would even just sit in silence! Most nights they came in just for the entrée, and then left. No bread, appetizer, dessert. They also never seemed too nice to our waiter, but I can't be sure because they didn't speak English. The table to their right were also Spanish speaking, but they spoke broken English, as well. They were always too far away to talk to, and we couldn't talk over the people next to us. Regardless of not meeting others at dinner, It was all great, though! Aaron and I had the best time at dinner, and were just goofy and had fun with it!
There were a lot of seafood options, which I tended to always get. This is shrimp ravioli.
Aaron and I hardly said anything was amazing. Things just seemed alright, and my guess is that it is because we were the second dinner. Sometimes our food was cold, or barely warm. I do understand they were feeding an entire cruise ship, though, and we were served in a prompt fashion.
Here are some of the meals we did enjoy, though:
Sorrento's Pizza
Boardwalk Hot Dog Shop
Johnny Rocket's Breakfast
Scallop Au Gratin and Manhatten Filet (Aaron)
Lobster Bisque and Shrimp Ravioli (Heather)
Espresso Chocolate Souffle and Chocolate Fudge Cake
Room Service with eggs, bacon, banana, yogurt, granola, hash browns- very small portions!
Caeser salad, Dragon Shrimp, Tiramasu (Aaron)
Antipasti, Beef Sliders (delicious), Sticky Bread and bread pudding (gross) (Heather)
Crab Cake, Crusted Cod (Aaron)
Crab Cake, Chicken cor don Blue (Heather)
Panini
Fresh Shrimp Salads
Prime Rib, Seafood Salad (Aaron)
Shrimp Cocktail (Heather)
Coffee and Donuts
Dumplings and Shitaki Mushrooms (Aaron)
Spinach dip, Chicken Caeser Salad (Heather)
Rack of Lamb and Scallops (Aaron)
Rigatoni with white sauce (Heather)
Rita's Cantina for Lunch one day. Delicious beef tacos, guacamole, and chips with salsa!
That really isn't everything, but just wanted to give you a glimpse of some of the dinners, and some of the breakfasts we enjoyed. We usually ate a hot dog, or grabbed a salad or fruit between lunch and dinner. We were always a bit hungry around 5 or 5:30 and knew we had a ways to wait until dinner!
While in Jamaica, all Aaron wanted to do was find some fresh fruit. Luckily, we found a Coconut for him! It was cut right in front of us, and he was able to eat all of it. Actually, I don't know if he even drank everything in it because there was so much. I was hesitant to try it – I don't like coconut flavors – but I did and it really was not a coconut flavor at all! I was shocked at how a coconut doesn't taste like coconut!
Wanna know my favorite part of the ship? We all know that fro-yo is the best, right? Our cruise ship had two locations with soft-serve frozen yogurt with cones on the pool decks. I indulged in too many to count plenty of frozen yogurt! I do not like the cone, though, so I just ate the fro-yo. You know those alcoholic drinks? Yeah, I decided to splurge on the fro-yo instead
Can you blame me?!
 Looking back at all of our food options, and everything we ate, I can say that even though the food wasn't the best, it was still delicious and we usually ate all of it. I never complained about something (unless I tried it off of Aaron's plate!) and was always pleasantly full. Actually, sometimes I was too full!
I am also linking up with Jen for WIAW! What better way to share all about our food on the cruise than with a party?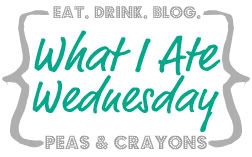 Have you ever had a fresh coconut and thought it tasted different than typical coconut flavors?
Would you choose an alcoholic beverage or fro-yo if given the choice? If you choose alcoholic drink, what one is your favorite?