For this weeks WIAW, I wanted to touch a bit on what we eat while vacationing at Deep Creek Lake.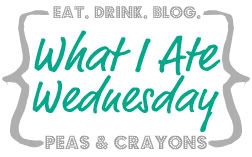 Thanks Jen! If you are in need of some new recipes, I highly encourage you to head to her blog and look at hundreds of others who have linked up to share some meals!
We actually don't go out to eat dinner any night. We have (typically) 6-7 families at least that come, so one family cooks dinner each night. It actually works out for the best, and we love that we have all of our favorites. Unfortunately, I didn't snap any pictures of the food. Since my phone hardly had any service, I never really had it with me, and, I won't lie, I was typically way too into the food than to snap pictures.
One area that I did take pictures of were the candy cupboard. Each family that comes eats pretty healthy throughout the year. The kids hardly have candy, and the rest of us use portion sizes, but still believe in treats. Deep Creek is basically one long treat. The candy supply is endless, the junk food is in surplus amounts, and we have baked goods both baked and brought, as well as frozen to pop into the oven throughout the week. We definitely don't hold back, and just roll with it. That also means this week has been major detox.
Yea, we might've had too much food
I really am not a huge candy lover. Of course I had a few more pieces than I ever do at home, but it isn't something I enjoy. Instead, I went for the sweets, and the chips. Cookies? Yes, please. Ice cream sandwich dessert? Yes, please. Doritos? Yes, please. I know my lunches were larger than usual (mostly because they were always leftovers!)
We had a campfire early in the week and Peter was pretty excited to roast some Marshmellows!
We hang out on the dock, and in the water, a lot, so when people go to the house, candy just seems to be brought down to share with everyone upon their arrival. I think everyone looks forward to eating healthy after coming home, but for this week, we all forget our healthy rules, and over indulge a bit. Maybe we shouldn't, and maybe we should cut back on the candy that is brought, but this is Deep Creek to us. The one week where we just live and relax and have fun!
Since I forgot to really snap any pictures of dinners, here is our menu!
Saturday: We don't get in until 4 and after everyone arrives, it is typically much later, so we stick to Shells n' Cheese and grill Hot Dogs, and watermelon
Sunday: Lasagna, salad, fruit salad
Monday: Tacos (my favorite dinner!), chips and cheese, and I'm thinking some kind of vegetable but I can't remember.
Tuesday: Pulled Pork and home made Mac n Cheese (this stuff is so good!), fruit salad
Wednesday: Fried Chicken, Corn bread, Japanese Cole Slaw, watermelon
Thursday: Pizza Pies! This is by far everyone's favorite dinner. We make a fire, and cook our own pizza pies. We also have dessert pies (apple, blueberry, and cherry filling) and of course, s'mores. We end up very full, but totally worth it.
If you've never had a pizza pie, you are missing out. We cook them in pie irons over the fire. I load mine up with cheese and sauce, but mostly cheese. Other people put on pepperoni, mushrooms, etc. We also make fruit pies with cherries, blueberries, and apple filling. I don't enjoy the fruit pies, because I don't like warm fruit. Haha weird, I know. Aaron tried to make a S'more pizza pie this year. He was really excited about it, until he took it out and the marshmallow evaporated!
Friday: We order Brenda's Pizza. It is huge and really good. This year, we ordered a White Neapolitan, Buffalo Chicken, Cheese, and Pepperoni pizza. The slices are probably 2 1/2 times the size you usually get in your pizza, so this year we did cut them in half again. Not only were they more manageable to eat, but it allowed you to try all the pizza!
That's basically what we had for food while on vacation! Breakfasts were cereal, bagels, eggs, pancakes, etc. Lunches were either sandwiches or leftovers from the night before. This year, we had less people than usual attend, but our food quantity didn't seem to go down, so we always had leftovers for lunch the next day. I definitely have more pictures to share, but unfortunately my server is not working for me so you will have to wait for more photos!
So there you have it! The meals I ate while I was away. With a wedding now less than two weeks away, you  better believe I am working out and watching what I am eating after that week!
Do you always eat out when on vacation?
Do you overindulge when you are away?