Today's post is sharing the food from our weekend in Seven Springs. Though this isn't all I ate, it is a pretty good look at how we tried to stay relatively healthy.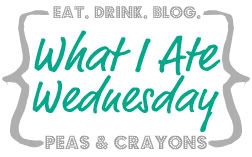 Thanks Jenn for hosting!
I ended up shopping for us on Friday before leaving. We knew we didn't want to spend a lot of money at restaurants, and just wanted to bring our own. We decided on eating breakfast ourselves before leaving Saturday, and then having lunch, dinner, and breakfast Sunday while there. I shopped at my favorite store, Aldi, and only spent $62. For 3 meals for 8 people, plus snacks, I thought that was a great price!
Once arriving, we pretty much busted out the pizzas I bought to eat. For whatever reason, we were really hungry! I brought up one cheese, and one with four meats on it. Everyone raved about both of them, but the cheese was my favorite. We actually had a lot leftover, too, for a later meal!
We snacked on some brownies, chips, salsa, and puppy chow, before making dinner. We had some intense games of Corn Hole going on, and we all worked up an appetite.
Burgers were the name of the game for dinner.
We cooked the burgers (and by we, I mean the guys) on a grill using wood. I was pleasantly surprised when the burgers had a bit of a wood fire taste to them, and tasted really good! We also had steamed corn on the cob, and cut up a watermelon. This watermelon was juicy, flavorful, and tasted refreshing to all.
Later that night, while the girls stayed in to talk, the boys started making Pizza pies and S'mores. I had a Pizza pie (cheese and pepperoni) and snacked on some more chips and salsa. Mmm, I could eat that all the time! The drink of the night was Moscato.
I haven't had a glass of wine in a really long time, and forgot how relaxing it is (and how much I love Moscato!).
We all went to bed stuffed, but after about an hour Sunday morning, we got to work on breakfast.
One of our friends, Justin, has a dairy and Gluten allergy so he stuck to eggs and Turkey bacon, while the rest of us dug in to some Pancakes and extra eggs. There were plain pancakes, and chocolate chip pancakes. I prefer plain, but they were both eaten.
I enjoyed my eggs with a bit of salsa and mozzarella cheese.
We also had some scones on the side (from Trader Joes- they were okay) before become stuffed.
Before leaving for home, we ate the leftover pizza and watermelon from the night before. We had a few things still leftover from the weekend, but nothing we couldn't use at home or save. We definitely had our fair share of snacks, as well as some good meals while away! And for once, I was able to eat everything and didn't have any pickiness to think about.
What's your typical breakfast?
Do you bring food when you go out of town or do you eat out?
Remember this wasn't everything I consumed. I just forgot to take pictures of all of it and showcased what I had. Imagine a lot of chips, a lot of salsa, and brownies eaten too